---
iPhone 12 Pro
battery

Replacement Service

If you own the iPhone 12 Pro, finding quality and reliable 12 Pro repair service you can count on definitely puts your mind at ease. When your 12 Pro needs anything from a screen repair, charging port replacement, unlocking forgotten passwords and lock-screen pattern to a battery replacement, accessories and screen protector installation Techbay Electronics has precisely the right replacement parts, tools, and many years of experience to get the job done right the first time – fast and error-free. You can also sell your 12 Pro to Techbay or trade it in for one of the many premium pre-owned devices available in any of our stores near you.

This repair service page was last updated 5 months ago
LIMITED LIFETIME WARRANTY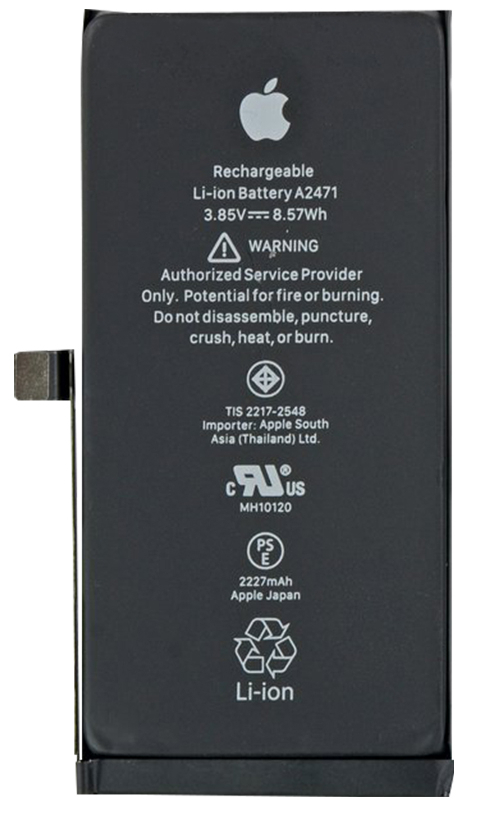 Original replacement battery of iPhone 12 Pro in Kenya. Battery type is Li-Ion 2815 mAh, non-removable (10.78 Wh). This battery is used to replace your non-removable (10.78 Wh) battery for your iPhone 12 Pro. Battery comes witha 90 days guarantee. A battery replacement is required if your phone is currently holding less than 80% of it's original charge capacity, original battery is swollen, or it simply won't charge and if it charges the phone doesn't last with charge an entire day.
iPhone 12 Pro Battery Replacement Service Ksh.4000.00
At Techbay Electronics we can replace your iPhone 12 Pro swollen, low capacity and damaged battery with a brand new and original battery to to ensure that a full charge gets you through the day without the need to carry a power bank, charger or an extra battery. All our batteries come with a limited lifetime warranty up to 6 months.
How Can you Get Battery Service for Your iPhone 12 Pro
Visit our store
The quickest way to get the battery fixed is to come to our store where our Technicians will perform diagnostics to confirm a battery replacement is needed. After confirming this the replacement will be done within a matter of minutes and your phone will be up and running again. Contact our store to schedule an appointment via phone by following the link below. or call 0723981091
Contact your nearest Techbay Repair Centre
Mail it in for repair
This option is recommended for our distant customers for whom it is not financially logical to visit our shop. You can use a courier service of your choice to send us your device. Rember to package it securely by using a large carton box padded with bubble wrap or any dry soft material like tissue paper or cotton wool. Styrofoam pieces can also be used to fill the box containing your device. water for only a few minutes. If water has seeped into your iPhone 12 Pro, act quicky to avoid damage to Devices sent via mail are fixed and sent back the same day they are received.
Order the battery and do the replacement by your self
If you feel competent enough and with a little help from our experienced Technicians at Techbay, you will find that doing a battery replacement is much simpler than you might think. Doing this replacement will also give you a chance to learn a new skill or a fun project to do with your kids. Ensure you follow all our safety guidelines below as working with lithium-ion cells can be dangerous if not carefully done..
---
Detailed Info
Brand: Apple
Battery Cell Composition: Lithium Ion
Compatible iPhone Models: A2407, A2341, A2406, A2408
Voltage: 3.85 Volts
Apple iPhone 2815mAh battery replacement for iPhone 12 Pro only, Model A2407, A2341, A2406, A2408. NOTE: Not for iPhone 12, 12 Pro or 12 mini. Please kindly check your phone model before purchasing The battery has a rated capacity of 2815 mAh, non-removable (14.13 Wh). Please note: new battery will reach optimal performance after charging and discharging completely for 3- 5 cycles
We offer high quality repair tools kit for better installation if you choose to repair it yourself. Adhesives and step-by-step instruction manual are provided with the battery. You can repair your phone by yourself at home or under the professional help. We suggest please search and watch relevant videos on YouTube before attempting the replacement. 3 Each battery is tested under strictly quality control standards before shipping. Same IC smart chip as original ensure efficient charging and high speed. Brand New 0 Cycle, FCC,CE and RoHS Certificated plus we offer friendly customer support in case you need further assistance. To contact us for iPhone 12 Pro battery problem, please call us on 0723981091 or whatsapp we will reach out to you within a few minutes Your iPhone 12 Pro battery is rated to hold 80% of their capacity for up to 500 charge cycles, which lasts about 2 years for most users. After that period, your iPhone may need to be charged more frequently during the day, and iOS may warn you that performance is affected by the aging battery. You may notice that your iPhone will begin to run slower. If you have started to experience a sluggish iPhone them it is time to get a battery replacement done. You can rely on Techbay Electronics to replace your battery and restore your iPhone's battery to like-new performance.
All batteries replaced at Techbay Electronics have a guarantee and 3 months warranty. Remember to ask about the limited lifetime warranty when you come for your iPhone 12 Pro battery replacement.
Signs that your iPhone 12 Pro Needs a New Battery
Thappappe battery may become swollen and you will notice that the LCD begins to lose its alignment with the frame on the sides of the phone. For the older generation iPhone like iPhone 8s and below you may notice dark orange spot on the display where the swollen battery is pressing up on the display. When you see such a sign you should get a battery replacement as soon as possible as waiting any longer might allow enough time for the swelling to damage the display.
Your iPhone may shut down randomly even when the battery is clearly sufficiently charged. If trying calibrating the battery does not solve the problem then it will definitely need a new battery to be installed on your iPhone 12 Pro.
Your phone will start operating hot when you are using power intensive operations like running a game or downloading a large file from the internet using mobile broadband. This is because the aging battery has a higher internal resistance that leads to generation of heat when huge currents are drawn from the old battery.
If your iPhone 12 Pro will only stay on when plugged in. This is because the battery has aged so badly that it no longer has any capacity to store any charge.
How to Get iPhone 12 Pro Battery Replacement Service in Kenya
1. Schedule a visit
Make an appointment at our Service Centre Our Service Centre is located at Latema Plaza 2nd Floor Office 203 along Latema Road Near Odeon to schedule an appointment you can reach our call centre on 0723981091
2. Send it in for repair
You can Arrange to mail your product directly to our stores through either G4S or Fargo Courier service or any courier service provider of your choice. After the battery replacement your iPhone 12 Pro will be packaged neatly in a cushioned box and sent back using the same address. to send us your device call 0723981091 or email qualebs@gmail.com for instructions on how to mail it.
3. Contact Techbay Electronics support
Contact us
To Talk to a Techbay Electronics customer care support/advisor call 0723981091
How Long Does it Take To Replace an iPhone 12 Pro Battery?
The battery replacement service is normally a simple task that takes less than half hour. But this time will depend on if you find other peoples in line before you. But once we begin to work on your phone it is practically instant and you will be able to leave with your iPhone fitted with brand new battery. Thank you for choosing Techbay Electronics for your repairs we hope to see you soon.
How Much Will It Cost?
At Techbay, iPhone 12 Pro repair services don't have to break the bank. Our services are both fast and budget-friendly. Depending on the type of damage and the extent of the damage to your iPhone, repair costs will vary. For an accurate estimate on your iPhone 8 repair services, please contact your local Techbay store.
We Can Fix Your iPhone 12 Pro
Same Day Repairs
Drop It Off or Mail It In - You Decide
Only High-Quality Parts
Specially Trained Staff
Free Estimates
Buy / Sell / Trade Your Current Device
Local Service
Limited Lifetime Warranty
Locate your local Techbay store to repair your iPhone 12 Pro
Store Locator
Techbay Knowledge Base
Latest Common Issues